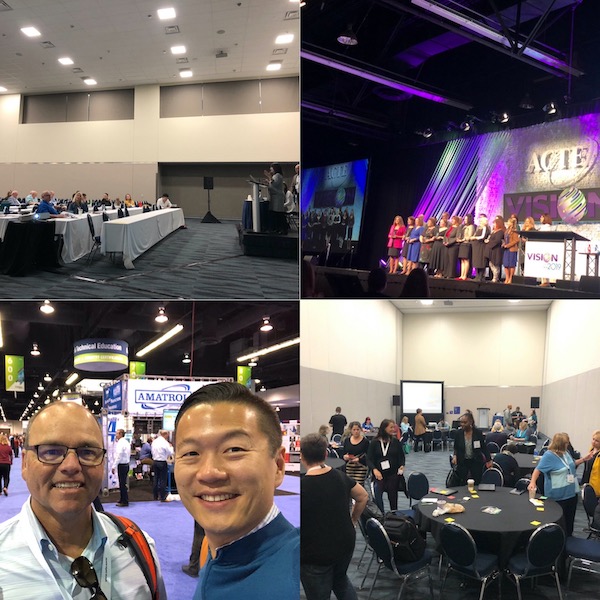 The future of career education is here.
Attending the Association for Career & Technical Education's (ACTE) CareerTech conference was a transformational experience. Not only was I able to reflect on the long term impact of work-based learning (WBL) during my high school years, but I also learned about the national momentum with WBL from teachers, school administrators, district staff, regional education service districts, state departments of education, and national conveners. I also helped share a case study, and compiled a checklist of questions and needs from districts across the country when it comes to student-level equity data and WBL partnership engagement tracking:
National WBL expansion
The U.S.'s Perkins V federal legislation provides nearly $1.3 billion a year for career and technical education (CTE). Congress is requiring states to have WBL in their plans and goes well beyond career days and includes internships, mentorships, apprenticeships, job shadowing, field trips to visit workplaces, and having employers from the community come into schools as speakers. Why? Here are some statistics from ACTE:
Taking one CTE class for every two academic classes minimizes the risk of students dropping out of high school.
The average high school graduation rate for students concentrating in CTE programs is 93 percent, compared to an average national freshman graduation rate of 80 percent.
91 percent of high school graduates who earned 2-3 CTE credits enrolled in college.
Perkins V also provides funds to support WBL through efforts to promote, create, or expand work-based learning opportunities. As part of this, local applications for funding must describe the opportunities they plan to provide to students and how they will work with employers to develop or expand these programs. It encourages stronger collaboration with employer partners to promote WBL, the option to include WBL learning in CTE data (such as "the percentage of CTE concentrators graduating from high school having participated in work-based learning"), and requires states to share information on WBL opportunities including describing how they'll make the data available to students, parents, and educators.
Meanwhile, momentum has been building across the country for greater integration of WBL into schools. ACTE's WBL Section has over 500 members and a national WBL-specific conference, Ford Next Generation Learning's career and interest-themed academy model is in almost 50 metropolitan regions, ConnectED (The National Center for College & Career) has consulted with over 30 districts on real-world linked learning implementation, and the Alignment USA Network is 12 communities strong working toward collective career success. Schools are finding that students are more engaged in the classroom with a hands on project-based approach incorporating WBL experiences.
Portland Public Schools case study
Districts can leverage Perkins V to drive quality and equity with their WBL programs. An example of a WBL initiative focused on a quantifiable equity impact is Portland Public Schools (PPS)'s career learning program. I had the honor of being part of PPS' session at the conference on how they've rolled out more WBL opportunities for their students by leveraging industry partners while using career learning data tracked in PPS's Partner Connect database (powered by Grouptrail over the past three years) to inform their practices and partnerships to move their work forward in an equitable way. The presentation and workshop focused on:
The evaluation framework, key performance indicators, and how their PPS Partner Connect database facilitated a process to visualize data to support district and building-based decisions about career learning and partnership engagement.
Connecting employer partners with opportunities in schools to build on the work of district staff, school career coordinators, and CTE teachers while tracking the activity on PPS Partner Connect to build their bench of partners and gather invaluable demographic information to support specific career learning and partnership goals.
PPS Partner Connect's features as a dynamic mobile-enabled platform with innovative school-based dashboards and real-time data visualization tools their high school career coordinators use to support CTE-centric goals and career learning strategies.
Development and integration of their CTE Career Learning Performance Scorecard into PPS Partner Connect.
Jay Keuter, PPS CTE Strategic Business Partnership Manager, said a key for their program implementation was having a backbone system and processes for collective impact across students, school and district staff, partners, and WBL experiences. PPS Partner Connect is the way to answer the questions of, "What does success look like, how do you measure that, and how can you make things scalable and replicable?"
Checklist for success
Perkins V offers greater flexibility than previous versions for schools and their local partners to meet the unique needs of students, educators, and employers. Since each state can have its own approach to implementing Perkins V, and individual districts like PPS have WBL opportunities specific to its schools and employer partners, the most common need that came up during the conference when it comes to managing and tracking WBL opportunities, partnerships, and student-level impact data was database flexibility:
Flexibility: How quickly can we update the terminology and workflow used in the database structure to reflect our needs ideally without the time and cost bottleneck caused by custom development?
Integration: Do you have integration options available for single sign on and for syncing demographic data from student information systems in addition to automatic import from forms such as Google Forms/Sheets?
Students: Are you able to track data on a student level including taking into account students' demographics when matching WBL opportunities and with equity reporting, give students direct access to the database, import career aptitudes, measure CTE benchmarks, and incorporate graduate success profile checklists?
Reporting: Do you have built in role-based configurable visual reporting to show actionable data dashboards instead of only exporting lists?
CRM: Does the database have a robust Customer Relationship Management included to communicate with partners and other stakeholders?
Proven: What is your track record over the past few years with how often you're able to update the database's features, perform bug fixes, monitor security best practices, and meet scheduled timelines?
Support: Do you provide ongoing customer support, technical support, and weekly new features, bug fixes, and security updates with your software licensing fee?
Security: How do you comply with FERPA and other security frameworks and what are your ongoing application, database, and server related security practices?
Scalability: Can you work with small districts or also scale up for large districts or across multiple districts/education service districts to help create better alignment of CTE programs with state, regional, and local needs through numerous access control options, configurable templates, and reporting features that can also cover multiple WBL hub databases?
Customization: Can you create a customized demo database that reflects the specific needs and terminology of our WBL opportunities and partnerships which leverages our existing data for us to evaluate?
I came away energized by the national momentum around the power and impact of work-based learning, the interest and response to the PPS case study, and hearing from hundreds of schools, which gave me a clear sense of how Grouptrail can continue to help co-create success regarding the data and partnership tracking needs of WBL programs across the country as a thought partner. I'm glad that the major Perkins V themes of quality, equity, data-driven decision-making, systems alignment, and guidance and advisement are all built into our Grouptrail WBL database platform!
Let us know if you're interested in getting a free Grouptrail WBL demo database customized for your district. And sign up here for our monthly WBL newsletter featuring news, best practices, and events.
---