ACTE is excited to announce Grouptrail as the National WBL Division Sponsor and CareerTech VISION Reception Sponsor!
There's been a groundswell of interest in work-based learning, resulting in the Association for Career and Technical Education now having an official WBL Division with 800+ members. And thanks to Grouptrail's growth in providing WBL and CTE related tools, we're jazzed to let you all know that Grouptrail is the National WBL Division Sponsor!
If you're headed to ACTE's CareerTech VISION conference coming up on November 30th to December 3rd at the Las Vegas Convention Center, please attend the WBL Division Reception sponsored by Grouptrail from 5:30 pm to 6:30 pm on Thursday, December 1st in room N 231. We'll be handing out Grouptrail-mix at the reception and notebooks in the exhibit hall so drop by and enjoy some "trail-gating" time in our booth (#443 on the floorpan)! Here's a sneak peak of our display where you'll be able to get a photo taken showing your commitment to helping students navigate the world of work-based learning: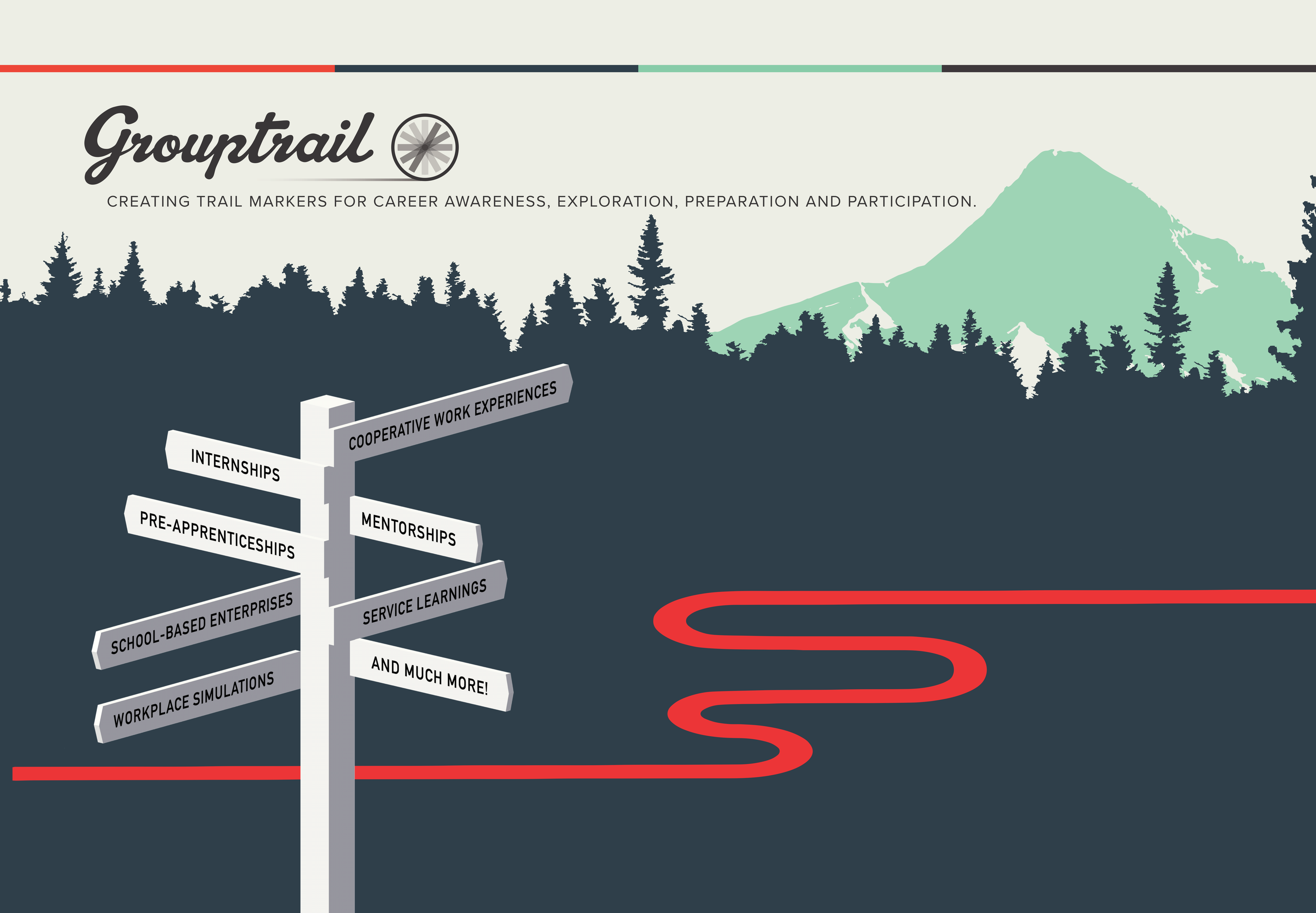 Not going to CareerTech VISION? We would love to reconnect! Grouptrail has added many new integrations (single sign on solutions, student information systems, data visualization tools), infinitely customizable student and partner facing features (to help with engagement, outreach, and all the steps involved with implementing work-based learning with fidelity), and developed a wealth of best practices we can share (national/international standards around security, WBL and CTE data reporting trends, navigating regional and statewide deployments involving IT departments, schools, districts, education service districts, city/county/state government agencies, workforce development partners, community based organizations and conveners, business associations, and more).
Best of all, besides tracking WBL/CTE programs, Grouptrail has solutions for after school, college access and success, mentoring programs, partnerships tracking, program management, workforce development, and more. This makes Grouptrail scalable and future proof to meet you where you and your group are at, and where you would like to go on your trail to achieving your full vision with the students you all support!
Download our CareerTech VISION flyer
Get a demo
Grouptrail is honored to support ACTE and the work of its growing WBL Division while helping be a catalyst for scaling up work-based learning in schools and communities across the country. Grouptrail is an easy-to-use, work-based learning platform with student participation tracking, employer partner management, automated customizable reporting templates, and single sign-on, plus comprehensive data integrations with student information systems. Grouptrail has experience working with over 100 nonprofits, 200 school districts, and 1,000 schools.
---